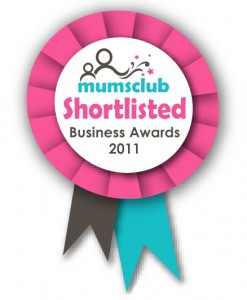 Tracey is thrilled to announce that she has been nominated and shortlisted for a Mumsclub Business Mum Award! The 4th annual awards are sponsored by MyFamilyClub and will be held on 8th March 2012, International Women's Day!
Tracey is ecstatic to have been shortlisted for this prestigious award, "This is a fantastic opportunity for Empowering Mums and I wanted to share with you how thrilled and honoured I am to receive this nomination. It is an exceptional way to celebrate how far Empowering Mums has come during the last three years!"
Since 2008, the Business Mum Awards have recognised and rewarded those women who have started businesses and achieved success in a short space of time. Winners have gone on to enjoy great success, including the achievement of some of their ultimate goals!
Jane Hopkins MBE, founder of MumsClub says, "The nominations this year have been of a very high standard and it has been my pleasure to personally go through them all to create a shortlist to pass to our esteemed judging panel. Starting a business is hard at the best of times, but to do so alongside a growing family makes it so much more demanding. Being nominated by a fellow mum in business is a huge accolade in itself and I hope all those nominated are incredibly proud of themselves. I wish them all the very best of luck and I look forward to seeing what the future holds for them all."
The judging panel consists of previous Business Mum Award winners and industry professionals.
The 4th annual Mumsclub Business Mum Awards – headline sponsors MyFamilyClub – are being held on International Women's Day on the 8th March 2012. The winners will be invited to an exclusive ceremony to celebrate.
http://www.businessmumawards.com
http://www.myfamilyclub.co.uk
Tags: Empowering Mums shortlisted for Mumsclub Business Mum Award Nomination