Empowering Mums Shop
Welcome to the Empowering Mums Shop. Here, you will find a range of inspiring and motivational literature that will guide you on your journey towards achieving confidence, balance and joy.
E-Books
Written by founder and director of Empowering Mums, Tracey Wall, these interactive e-books provide comprehensive information, valuable coaching techniques, effective exercises and solutions to your daily challenges.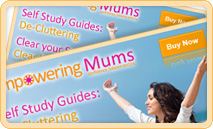 Self-Study Guides
Our self-study guides offer effective tools to achieving life-long goals.
These thorough workbooks will support you in your efforts to achieve change and motivate you to succeed in your quest for a more fulfilled and happier life.

On purchasing any Empowering Mums product, you will automatically receive Empower, our free newsletter, which will keep you up to date with any new product releases.
Start your journey today – achieve confidence, balance and joy.